NORTH ALABAMA REGULATORS
COWBOY ACTION SHOOTING CLUB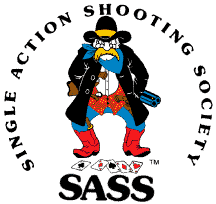 Visitors Are Always Welcome
The members of the North Alabama Regulators are here to help with your questions about Cowboy Action Shooting. Cowboy Action Shooting is a family oriented shooting sport that is great fun for the whole family.
Safety is foremost concern. Please dont feel bad if some one cautions you to do this or dont do that regaurding safety on the range. There is alot to learn about Cowboy Action Shooting or about any shooting sport for that matter. We have seasoned shooters who are happy to take the new shooter and mentor them. A great source for the new shooter is the SASS wire and shooters hand books it has published on it.
Please see the link below for this resource.
When Do We Shoot?
We shoot on the first Sunday of the month. Our shooting registration starts at 8:15 and ends at 8:45. We will have an opening ceremony which includes a prayer, pledge of allegiance, announcements and safety briefing.
We will start shooting about 9:30
Where Do We Shoot?
We shoot at The Cavern Cove Competitive Shooting range. It is located 45 minutes east of Huntsville, Alabama near Cathedral Caverns State Park.
​
Address:
373 Ambush Trail
Woodville Al 35776
​
The North Alabama Regulators is a Cowboy Action Shooting Club located in North Alabama. The purpose of our club is:
· To promote the sport of Cowboy Action Shooting.
· To communicate the rich traditions of the Old West.
· To foster the development of honesty, good fellowship, self-discipline, team play, and self reliance which are the essentials of good sportsmanship and the foundation of true patriotism.
· To teach and promote safe handling and the proper care of firearms in the friendly spirit of competition.
· To promote shooting sports as a family recreation.
We are affiliated with the Single Action Shooting Society, SASS is an international organization created to preserve and promote the sport of Cowboy Action Shooting, which is the fastest growing outdoor shooting sport in the country. Today SASS has over 90,000 members including men, women and children.